Spring Healing: Street Yoga & Walking Workshops
Take Your Body to a Whole New Level of Connection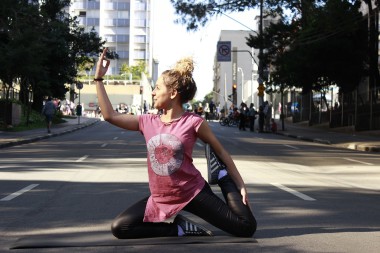 Being outside when the sun first starts shining again is such good medicine.
Taking it to the next level with yoga in the fresh air, even better.
As I was walking through Ballard on Thursday (admittedly taking no heed to the Ides of March) I saw a young woman practicing yoga in right there on the street.
Technically, on the sidewalk.
With her hands in the dirt of a flower bed, she was calm and strong.
I thought to myself- this girl has got it right.
Chaturanga with the tulips.
What a call to dive into spring, lean back into down dog, hit a strong mountain pose while gazing at actual mountains.
There's a big, grassy field out at Golden Gardens to stretch out on too if the pace of the cars and passersby seems like too much.
We are so blessed in the Pacific Northwest. Here are some local resources to get you in touch with your body this spring.
Yoga in Your Park
Hit up Tori Louise for a yoga class in Magnuson. First class is free!
Get Out for Good
Get a Body Positive Yogic Experience with local Trap Vinyasa Intro Series 1 Fundraiser for Street Yoga on April 7th with founder Abiola Akanni
Already a yogini/instructor?
Delve into service and get a trauma-informed yoga training certification.  Serve at-risk youth and get stellar self-care strategies at Street Yoga's Seattle Training April 20-22nd.
Your outdoor exercise doesn't have to be yoga related for it to be soul-quenching. Check out these amazing tree-covered walking loops in Seattle!
Watch spring come to life, and feel it from your head to your feet.
Does chronic pain keep you sedentary?
We invite you to attend Jacob Caldwell's workshop Learn How to Walk Correctly held on Thursday, April 22nd in the Divine Spine Chiropractic Studio space.
Jacob is a Massage Therapist with years of experience working out sciatica, leg pain, low back pain.
He has seen a direct correlation between how people walk and the way they feel.
More information and tickets on Eventbrite and Facebook.
Jacob will be gifting each workshop attendee with a book for home care and practice.
We support you in feeling the vibrant spring energy rise from the earth up through your feet.
Whether you are starting from the ground up like the crocuses with learning how to walk, diving into a new practice on the grass or serving a deep need with street yoga, we encourage you to move more, to breathe deep, and tap into the sunlight.
All the best to you and yours on your healing journey this Spring!