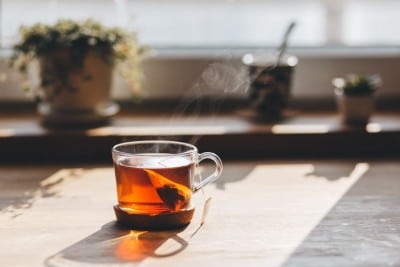 Now that the weather is turning cold on the regular, consider a few accessible ways to cultivate inner warmth and create cozy.  These three tips are a wonderful way to start and end a day.
Make a cup of soothing and stimulating tea. Chai is a fall favorite, or try these medicinal herbal options. 
Ginger
Stimulates circulation, is lightly spicy and soothes tummies. A great morning tea, drinking it before bed could inhibit sleep due to stimulant properties. Learn more about ginger

Licorice
Soothe stress and beat sugar cravings with a cup of licorice tea. This warming spice makes the evening complete. 
Tumeric
Golden milk is trendy for a reason: it's delicious. Try it with Hemp Milk and honey, the coziest of cups!
Stay under the covers for an extra few while listening to a Guided Meditation or breathing mindfully. A gentle way to carry the warmth of bed into your body and set up your day. 
Insight Timer
Free Mediation Apps are gold! Reach for your phone upon awakening and try one of Insight Timer's Morning Mediations before you start your day.
Breath of Fire
Pranayama yogic breathing is a wonderful way to stoke inner heat. You can start first thing in the morning, perhaps seated in bed with warm covers wrapped around you. 
Alternate Nostril Breathing
Try holding your fingers in a 'hang ten' pose
Block the left nostril and breathe in the right nostril
Block the right nostril and breathe out and then in of the left
Block the left nostril and breathe out and then in of the right
Repeat. Be mindful of any dizziness.
Breathe 11:11
Keep your heart warm and your belly full of breath with this free app reminder. Learn more at Breathe 11:11
Warm-up your muscles with a new stretching routine. Simple yoga moves next to the bed will do, right when you roll out or before you tuck in. Or, for extra core strength, we suggest foam rolling. Keep your yoga mat or foam roller next to your bed for easy access.
Extended Child's Pose
This is a lovely way to connect with gravity and the earth first thing from bed.

Downward Dog
Watch and learn in this 2-minute video from the Yoga Journal. Or try a full sun salutation if you are feeling flexible and awake! The key to Yoga is to modify the moves for your body, protecting areas you know are tender and being honest with your limits so as not to injure yourself.  Be gentle as you awaken. Simple is a beautiful way to begin.
Foam Rolling
Mobilize your fascia and strengthen your core with high-density foam rollers. Work on rolling out your back, legs, and neck to reduce pain and tightness and promote better health. These exercises will get you warm!
Learn a full body foam rolling routine at our office free of charge. We have a class coming up on Wed. Nov. 15th, 2017. Details here.
Check out Migraine-Fighting Smoothie Booster
For more inspiration on staying cozy, healthy, and active this Fall stay tuned to our blog, visit us on Facebook and Twitter, or call our office for our November wellness specials!