2 Tips to Strategize Success!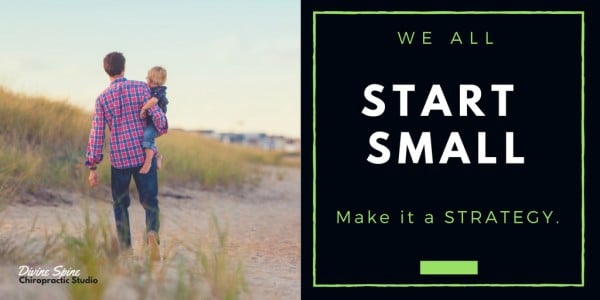 It's the time of year when statistics start to kick in.
New Year's Resolutions take a sharp decline a couple weeks into the new year.
Some of us avoid this trend by not setting resolutions. Most of us want to start living healthier lives, have more energy, and feel good in our bodies and about ourselves.
Perhaps you've taken the route of stopping something instead of starting something. Whatever your strategy is for health in 2018, we are here to support your success.
Here are 2 tips from Dr. Derek to go forth with confidence into your new health habits and help make them stick.
If you are kicking off 2018 with a new workout routine, shoot for 1 time week instead of 5.
If your new health habit is to drink more water, set a timer!
If you're looking to lose a little weight, start with a smaller plate. (and with fiber!)
You can always add more.
More workouts, more water, more healthy nourishing food that leaves you satiated and feeling invigorated.
The key is to start small so you start with success.
Make your new health habit a priority by marking it in your calendar.
Whether you carry a notebook, daily planner, or use your phone- physically set aside the time to show up for yourself.
If you need to remember to get up and stretch when you are at work sitting most of the day- set a timer!
Making time to make your new habit the norm is totally achievable if you start small and write it into your life.
Remember, whatever you have chosen to start in 2018- commit to it! You are worth the effort and attention it takes to succeed.
Don't give up on your goals during these mid-January weeks, and tune back in each week for a free health tip from Dr. Derek.
We are grateful to be a part of your health and wellness team!